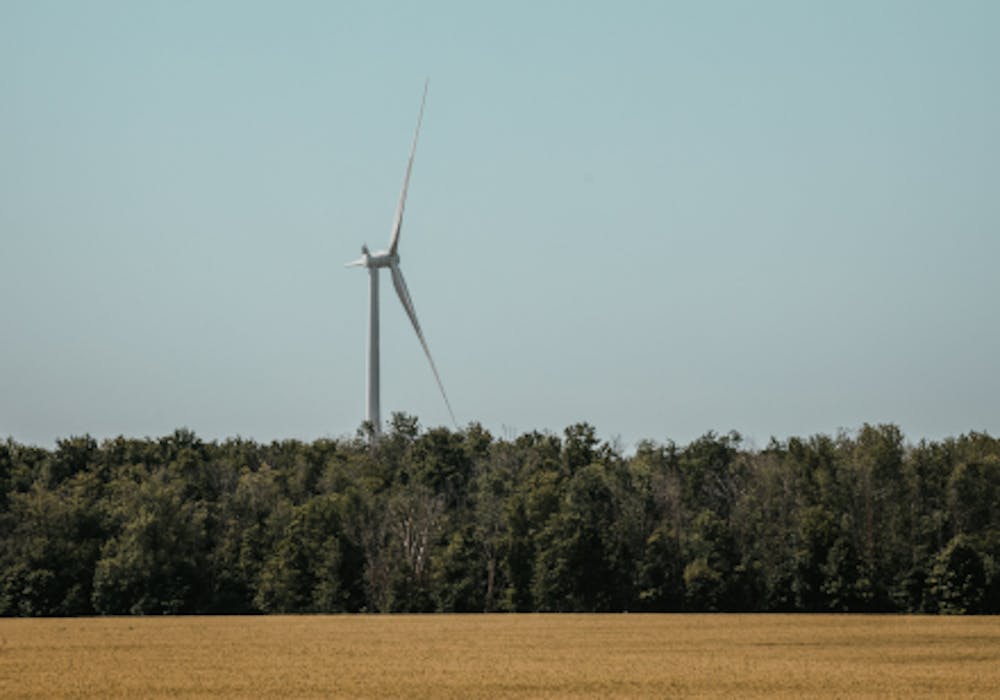 The UK's 10-point plan was presented to parliament in December 2020 as part of a strategy of vital green initiatives set to take place between now and the global Net Zero target of 2050. Take a look at the key points to find out how Net Zero is shaping our future.
As a UK business owner, you'll aware of lowering emissions and making greener choices towards Net Zero status, but possibly not as familiar with the overall strategy which formed the basis of The Energy White Paper, entitled Powering our Net Zero Future. The plan was devised in order to place the UK at the forefront of addressing the challenge of climate change as a priority, with achieving Net Zero status through decarbonisation by 2050, driving the overall agenda.
Taking action to achieve this target will ensure the UK ends making any major contribution towards the damaging effects of climate change, and will help to position UK companies at the forefront of business opportunities which will flow from a new era of environmental responsibility; creating employment opportunities and supporting the economy.
The Ten Point Plan provided further clarity across the wider energy system, intended to build a cleaner, greener future for the country, and contribute to global recovery which will also grow the economy, supporting thousands of green jobs across the country with new greener industries, and leveraging new green export opportunities. The Ten Point Plan also intends to offer fairer deals for consumers, protecting the fuel poor, providing opportunities to save money on bills, and give us warmer, more comfortable homes, while balancing investment against the impact of billing. The Ten Point Plan covered the following key policies and commitments:
1. Advancing offshore wind
By 2030, the UK plans to quadruple offshore wind capacity, so we are able to generate more power than our homes currently use today, supporting new innovations to utilise the use of this proven technology, and investing to create new jobs and bringing growth to UK ports and coastal regions.
Emission-free electricity is seen as central to the UK's transition to a Net Zero economy, with demand expected to double due to transport and low carbon heat.
The government published Transitioning to a Net Zero energy system in July 2021, explaining how Ofgem will work with government and industry to help consumers make changes, outlining how a more flexible approach to the use of electricity will help the UK to avoid building new generating and grid capacity to meet demand, which will result in significant savings.
Consumers will play an active role, with green energy tariffs and smart appliances, including Smart electric vehicle chargers, to save money by using electricity at cheaper times.
Target milestones:
2020: Competitive process launched to support modern, integrated port-side infrastructure.
2021: Consult on the introduction of more stringent supply chain plan requirements, and support up to twice the capacity of renewable generation in the next Contract for Differences (CfD) round, with onshore wind and solar projects eligible to bid for CfD contracts.
2021: The Offshore Transmission Network Review will publish an update by the end of the year, with a view to providing clarity for an enduring approach in 2021.
2. Driving the growth of low carbon hydrogen
The UK is aiming for 5GW of low-carbon hydrogen production capacity by 2030. Researchers are also pioneering hydrogen heating trials, beginning with a Hydrogen Neighbourhood and scaling up to a potential Hydrogen Town, before the end of the decade.
The potential for hydrogen heating is also being explored, with a proposal for a pilot hydrogen-heated town before 2030. One option could be to adapt existing gas infrastructure for hydrogen distribution, which relates to the government's plan to consult on the role of "hydrogen-ready" boilers next year.
Producing low carbon hydrogen at scale will be made possible by carbon capture and storage infrastructure, with plans to grow both of these new British industries side-by-side so the UK's industrial 'Super Places' are envied around the world.
Target milestones:
2021: Publish the Hydrogen Strategy and begin consultation on preferred business models for hydrogen.
2022: Finalise hydrogen business models.
2023: Work with industry to complete testing to allow up to 20% blending of hydrogen into the gas distribution grid for all homes on the gas grid.
2023: By 2023, support industry to begin hydrogen heating trials in a local neighbourhood.
2025: 1GW of Hydrogen production capacity.
2025: Support industry to begin a large village hydrogen heating trial, setting out plans for a possible pilot hydrogen town before the end of the decade.
3. Delivering new and advanced nuclear power
The electricity system will grow and could double in size by 2050 as demand for low-carbon electricity in sectors like heat and transport rises. Nuclear power provides a reliable source of low-carbon electricity. Large-scale nuclear is being pursued, while also looking to the future of nuclear power in the UK through further investment in Small Modular Reactors and Advanced Modular Reactors.Nuclear power offers a reliable source of low-carbon electricity.
Large-scale nuclear generation is being pursued, along with considerable research being conducted into the future of nuclear power in throughout UK, through further investment in Small Modular Reactors and Advanced Modular Reactors.
Target milestones:
2020: Publication of the Energy White Paper.
2021: Proposed launch of Phase 2 of UK SMR design development.
Mid 2020s: Hinkley Point C (a project to construct a 3,200 MWe nuclear power station with two EPR reactors in Somerset, England) comes online.
Early 2030s: First SMRs and AMR demonstrator deployed in the UK.
4. Accelerating the shift to zero emission vehicles
Transport is the largest contributor to UK greenhouse gas emissions (GHG), with road transport alone accounting for almost 25% of total emissions in 2019.
The government's Transport Decarbonisation Plan was published in July 2021, clarifying phase-out plans for petrol and diesel vehicles. The ban on the sale of new petrol and diesel cars and vans is set to arrive ten years sooner than originally planned for the UK, from 2030. This initiative is backed by a £2.8 billion package of measures to support industry and consumers to make the switch to cleaner vehicles.
Commitments include linking local infrastructure funding to solutions which cut emissions, including improving public transport, increasing support for active travel so mass transit and cycling and walking play a big role, a Net Zero rail network by 2050, Net Zero domestic aviation emissions by 2040 and leading the transition to green shipping.
The Energy White Paper set out a plan to invest £1.3 billion to accelerate the rollout of EV charging points across homes, streets and motorways, as well as another £1 billion to support the purchase and development of EVs themselves, such as funding for battery production.
Installing EV workforce charging is now achievable, affordable and scalable for all businesses – not just major corporations with large fleets. GEAB work with businesses to make the transition to electric vehicles, helping them to take advantage of falling costs, technological advances and financial incentives to support carbon reduction.
Target milestones:
2021: Publish a Delivery Plan setting out key milestones to deliver the new phase out dates.
2021: Publish a green paper on the UK's post EU emissions regulations and the car and van phase out dates, as well as launch a consultation on the phase out of new diesel HGVs.
2030: The network of charge points on England's motorways and major A-roads will be extensive, with more than 2,500 high-powered charge points that quickly enable cars to drive over 100 miles.
2030: End of sales of new petrol and diesel cars and vans.
2035: All new cars and vans will be zero-emission from the tailpipe leading to cleaner, greener vehicles on UK roads. England's motorways and major A roads will have around 6,000 high powered charge points.
5. Green public transport, cycling & walking
The government plans to accelerate the move towards more sustainable transport systems by investing in improvements to rail and bus services, and with measures to help encourage pedestrians and cyclists. Thousands of zero-emission buses will be funded, and towns and cities will feature cycle lanes as standard.
Rail routes will be expanded around regional cities, including Manchester and Birmingham, improving public transport in city regions, which would save thousands of tonnes of carbon. In smaller areas, buses will be improved, with more rural on-demand services introduced, and many of the rail links removed in the Beeching-era (a plan to increase the efficiency of the nationalised railway system in Great Britain in 1963), will be restored to give people the choice not to drive. The Midlands Rail Hub scheme will be progressed in Birmingham with improvements in Manchester and Leeds, alongside Northern Powerhouse Rail to improve east-west links across the Pennines.
Target milestones:
Early 2021: National Bus Strategy and first electric bus town.
2021: First of 4,000 new zero-emission buses delivered.
2023–2024: First rail lines reopened.
2025: Cycle training available to every school child and adult.
By 2025: Double cycling rates from 2013 levels to 1.6 billion stages per year.
6. Jet Zero & Green Ships
We will position the UK at the forefront of aviation and maritime technology to push forward low carbon travel and build on UK strengths. By taking immediate steps to drive the uptake of sustainable aviation fuels, investments in Research & Development to develop zero-emission aircraft, and developing the infrastructure of the future at our airports and seaports, we will make the UK the home of green ships and planes.
A century ago, a Mancunian and a Glaswegian completed the first non-stop transatlantic flight and created civil aviation. Fast-forward to September 2020 when the first commercial aircraft powered by a hydrogen fuel cell took off in Cranfield. British innovation will unlock the world of sustainable fuels, turning these fossil fuel intensive journeys into lower carbon routes of transportation that allow the opportunity of global travel whilst also safeguarding our planet.
Target milestones:
2021: Consult on the Aviation Decarbonisation Strategy.
2025: Consult on a SAF mandate and run a £15 million competition for fuel plants in 2021, with a mandate possibly starting in 2025.
7. Greener Buildings
The government states that the biggest emissions-savings laid out in the Energy White Paper are expected to come from buildings. Making buildings more energy efficient and moving away from fossil fuel boilers will help make people's homes warm and comfortable, and keep bills low.
There will be a gradual move away from fossil fuel boilers over the next 15 years, as individuals replace their appliances with lower carbon, more efficient alternatives, which are expected to support 50,000 jobs. Gas boilers will be gradually removed and replaced with cleaner alternatives.
By the mid-2030s, the government hopes that all newly installed heating systems will be low carbon models or appliances that are hydrogen-ready for future conversion to hydrogen supply.
However, the government expects gas to continue to play a role for at least the next 10 years. In the near term, businesses can decarbonise heating and power requirements with energy supplied from renewable sources, by switching to a green energy tariff.
Energy efficiency is a cost-effective method of decarbonising buildings, including using Smart meters to help inform energy saving.
Target milestones:
2021: Set out the Heat and Buildings Strategy.
2021: Launch a world-class energy related products policy framework. Push for products to use less energy, resources, and materials, saving carbon and helping households and businesses to reduce energy bills with minimum effort.
By 2032: Ensure the public sector has reduced direct emissions by 50% compared to a 2017 baseline.
8. Carbon Capture, Usage and Storage (CCUS)
The UK's ambition is to capture 10Mt of carbon dioxide a year by 2030. This is the equivalent of four million cars' worth of annual emissions. They plan to invest up to £1 billion to support the establishment of CCUS in four industrial clusters, creating Super Places in areas such as the North East, the Humber, North West, Scotland and Wales.
CCUS technology captures carbon dioxide from power generation, low carbon hydrogen production and industrial processes, storing it deep underground where it cannot enter the atmosphere. This technology will be globally necessary, but no country has yet captured the market. The UK has an unrivalled asset, The North Sea, which can be used to store captured carbon under the seabed. Developing CCUS infrastructure will contribute to the economic transformation of the UK's industrial regions, enhancing the long-term competitiveness of UK industry in a global Net Zero economy. It will help decarbonise the most challenging sectors, provide low carbon power and a pathway to negative emissions.
Target milestones:
2021: Execute a process for CCUS deployment, working in collaboration with industry and set out further details of a revenue mechanism for industrial carbon capture and hydrogen projects.
2022: New CCUS business models finalised.
2030: 2 clusters operational by the mid 2020s, subject to relevant value for money and affordability considerations and a further 2 clusters operational by 2030.
9. Protecting The Natural Environment
The natural environment is one of the most important and effective solutions for capturing and sequestering carbon on a long-term basis. The UK will safeguard landscapes and restore habitats for wildlife, in order to combat biodiversity loss and adapt to climate change, while this will also create new, green jobs with a £40 million second round of the Green Recovery Challenge Fund.
Investment in flood defences will protect homes, businesses, and communities from the risk of flooding, and safeguard the natural environment as we adapt to the changing climate. £5.2 billion will be invested in a six-year programme for flood and coastal defences, including innovative approaches to work with nature to not only reduce flood risk, but deliver benefits for the environment, nature and communities.
Target milestones:
2020–2021: From the end of 2020 award the first £40 million in a range of nature projects across England through the Green Recovery Challenge Fund, with a second-round worth up to a further £40 million in 2021.
2021: In 2021 start the process for designating new National Parks and AONBs.
2021: Invest £5.2 billion in a six-year capital investment programme for flood and coastal defences.
2022–2024: Between 2022 and 2024 we aim to initiate 10 long-term Landscape Recovery projects.
10. Green finance & innovation
The UK has committed to raising total Research & Development investment to 2.4 per cent of Gross Domestic Product GDP by 2027, and in July 2020 published the UK Research and Development Roadmap.
The next phase of green innovation will help to reduce the cost of the Net Zero transition, nurturing the development of better products and new business models, and influence consumer behaviour.
Target milestones:
2020: Publish priorities within the Net Zero Innovation Portfolio.
2021: Remaining priority innovation challenges within the Net Zero Innovation Portfolio launched.
2022: Start vessel trials in Orkney, work towards a hydrogen port in Tees Valley, and launch feasibility studies for several clean maritime clusters across the UK.
2022: Announce the site for UK fusion power plant demonstrator.
GEAB work alongside businesses to change their approach to energy in line with green energy policy-making, making wider use of Net Zero energy sources, and finding new ways of heating your business. The race to net zero requires urgent action and the role of business is critical to delivering on the UK's climate action commitments.
Take your first step towards a greener future today with GEAB Energy Experts ready to take your call 9am -5pm, Monday to Friday, on 0800 084 3477.
Frequently asked questions
Net Zero refers to the balance between the amount of greenhouse gas which is produced, versus the amount which is removed from the atmosphere. We will reach Net Zero status when the amount we add is no more than the amount subtracted. The UK hopes to obtain this status by 2050.
What is meant by Carbon Footprint?
The term carbon footprint refers to the amount of carbon dioxide released into the atmosphere due to the specific activities of an individual, an organisation, or within a community. The UK aims to reduce these harmful emissions in line with the 2050 Net Zero target to create a more sustainable future.
What is the Climate Change Levy (CCL)?
The Climate Change Levy is an environmental tax which was introduced in 2001 and applies to businesses in the industrial, public services, commercial and agricultural sectors. The CCL is charged against taxable commodities for heating, lighting and power purposes to non-domestic consumers.
Let us help
If you would like to discuss the information shared in this article, or you would like to receive a free energy quotation please fill in your details below.