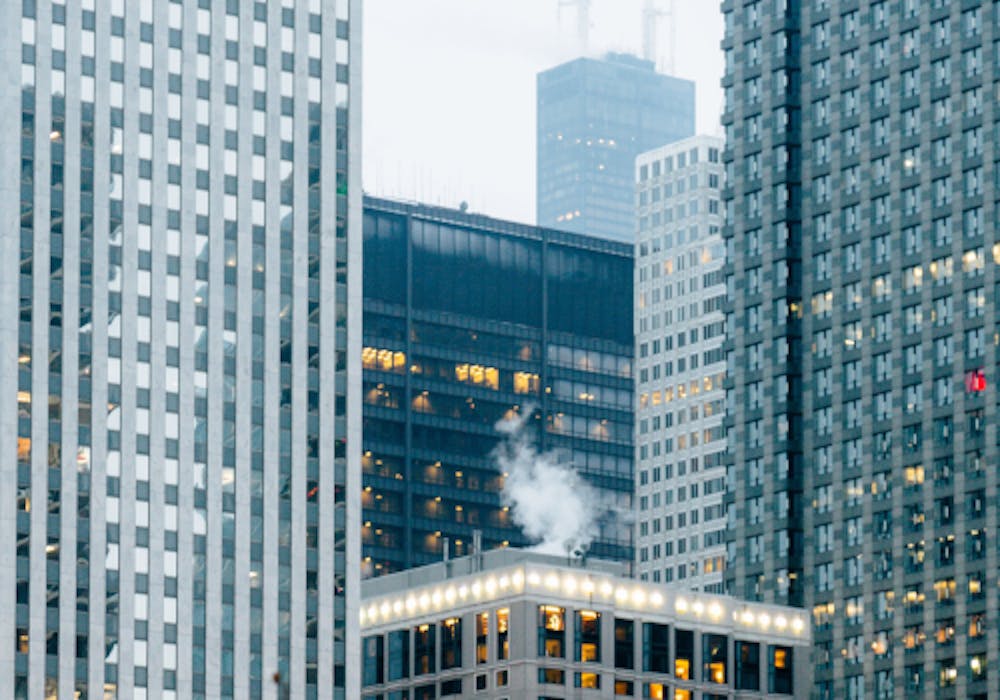 The constructed environment is a major contributor of global greenhouse gas emissions, which also means our commercial buildings offer the potential to form a central solution to tackling the climate crisis.
Decarbonising buildings is essential to not exceeding the 1.5°C target, as set out in the 1.5°C Cop26 Communique as part of the Paris Agreement. Buildings represent almost 40% of energy-related global carbon emissions and 50% of all extracted materials, with inefficient, unhealthy buildings negatively impacting human health and wellbeing. When accounting for the embodied carbon of interiors, various working practices, infrastructure and systems, that percentage increases substantially.
By 2050, 1.6 billion urban dwellers will be exposed to incredibly high temperatures on a regular basis, and over 800 million people living in more than 570 cities could become increasingly vulnerable to sea-level rise and coastal flooding. Around this time, the world's building stock will also potentially double, with almost 70% of our global population expected to live in urban areas.
As we reach 2060, the use of global material is expected to more than double, with a third of this attributable to materials used in the building and construction system. However, the construction of efficient buildings is one of the biggest investment opportunities worldwide, worth an estimated $24.7 trillion by 2030.
To limit warming to no more than 1.5℃ as set out in the Paris Agreement, emissions from global building projects need to be halved by 2030, and in order to reach Net Zero, this needs to be implemented no later than 2050.
To meet vital decarbonisation targets and establish the built environment as a major solution against climate change, radical collaboration is required across built environment systems, with active solutions and policies set in place across businesses, cities and governments.
According to The World Green Building Council, the number of businesses and organisations committed to achieving zero-carbon buildings grows steadily each year, as organisations recognise the need to take immediate action. However, as the built environment currently contributes 40% of the UK's total carbon footprint, reducing this substantial percentage to zero represents a considerable challenge, with many businesses unsure how to begin their approach.
What is a Net Zero building?
The World Green Building Council identifies a Net Zero building as offering a highly energy efficient environment which is fully powered by on-site and/or off-site renewable energy.
The key to creating a Net Zero building can be found in achieving balance between the energy consumed and the energy able to be generated through renewable sources. This is a key area of focus for GEAB, who can assist your business with an operational overview along with delivering energy options tailored to suit your commercial operations and budget.
How does an existing building differ from a brand new one?
For existing buildings, businesses will remain focused on reducing operational energy to lower consumption. However, if your organisation will be constructing further buildings you need to measure carbon emissions within your construction proposal in order to actively manage the process.
The UK Green Building Council sets out definitions for both approaches. Net zero carbon construction is clarified as achieving zero or negative carbon emissions in the building's product and construction stages up until completion, through carbon-offsetting or the net export of on-site renewable energy. Net zero carbon operational energy is identified as lowering the amount of carbon emissions associated with the building's operational energy on an annual basis to carbon zero or negative.
How to increase energy efficiency for existing buildings
There is considerable focus on what can be done to improve the energy efficiency of existing buildings in the UK as almost 90% of these constructions will still be in use in 2050.
The first step is by understanding your current energy usage and taking steps to reduce consumption. Collating these figures for your business provides a vital starting point to making energy efficient improvements. Once you have these readings, there are many ways you can begin to effectively manage consumption, including:
• Switching to a renewable energy supplier.
• Implement intelligent heating and lighting systems which are only used when required.
• Install or replace cavity wall, floor and roof insulation.
• Replace old windows and doors to reduce drafts.
• Conduct a water audit to identify leaks and lower usage.
• Ensure new appliances or machinery offer high energy efficiency.
• Replace lightbulbs with LED.
Looking at ways to reduce consumption and improve efficiency is a continuous process. The energy you require will fluctuate as your business operations or commercial environment expands or changes, so regularly reviewing data is key to ensuring your organisation stays on the path to achieving Net Zero status. GEAB energy consultants work alongside your business to review existing processes, and suggest energy efficient alternatives across your operation, saving you time and reducing your carbon footprint.
Implementing renewable energy for your business
Along with optimising your building and reviewing existing operations, the next step towards taking measures to reduce emissions is to look at increasing the amount of renewable energy being sourced by your business.
Ways to generate energy via wind or solar power can help to reduce the costs associated with your energy supply for years to come, and mean you gain independence from the national grid. However, generating on-site energy does require upfront investment, and isn't possible for the majority of businesses which don't have access to land or roof space, so external sources will be the only option for renewable energy.
Switching to a renewable energy tariff is the first step towards achieving this, but another option is with Power Purchase Agreements (PPAs) which are contracts between a seller and buyer of electricity.
GEAB can advise your business on PPAs and at renewable energy sources and suppliers as you prepare for an environmentally-friendly future. These contracts are usually long term and can assist your organisation to lock-in costs, to manage the risk of volatile energy markets and generate savings across your energy bills.
GEAB can help your business to optimise energy usage and increase renewable energy supplies, lowering emissions to achieve Net Zero status for commercial buildings. Contact the GEAB team from 9-5pm, Monday to Friday on 0800 084 3477.
Frequently asked questions
Net Zero refers to the balance between the amount of greenhouse gas which is produced, versus the amount which is removed from the atmosphere. We will reach Net Zero status when the amount we add is no more than the amount subtracted. The UK hopes to obtain this status by 2050.
What is meant by Carbon Footprint?
The term carbon footprint refers to the amount of carbon dioxide released into the atmosphere due to the specific activities of an individual, an organisation, or within a community. The UK aims to reduce these harmful emissions in line with the 2050 Net Zero target to create a more sustainable future.
How do I switch business energy suppliers?
Contact GEAB and please ensure you have a copy of your most recent commercial gas and electricity bill for a quick, independent comparison based on your commercial usage.
Let us help
If you would like to discuss the information shared in this article, or you would like to receive a free energy quotation please fill in your details below.