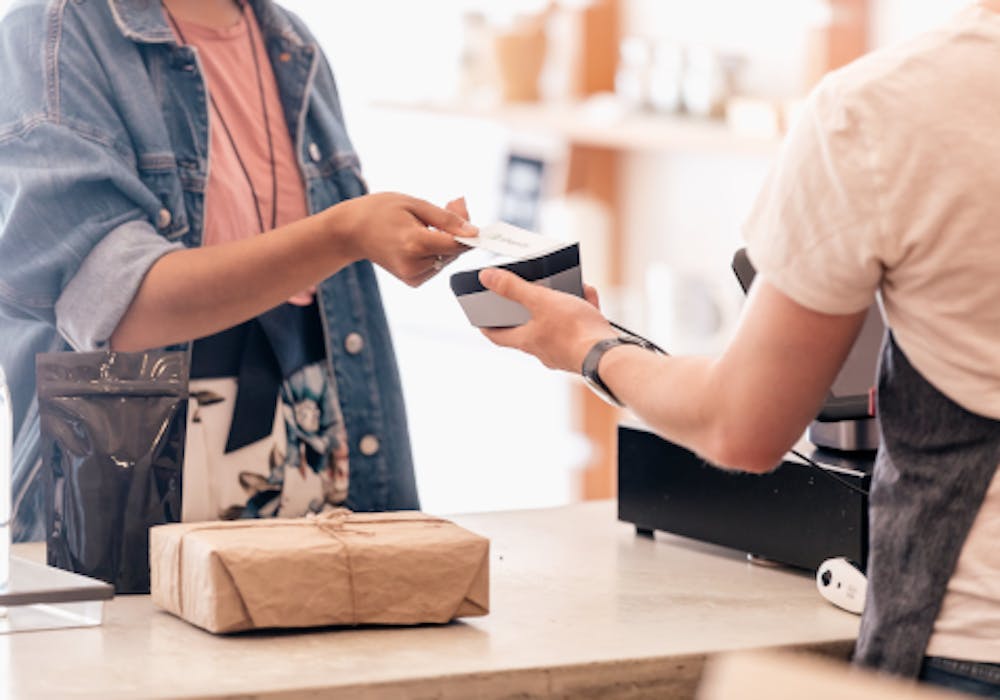 As smaller operations, SMEs and start-up businesses often underestimate the value of their contribution towards supporting the UK's Net Zero targets. Sustainable measures aren't just for larger businesses, and don't have to mean making huge changes or investments. Discover how a greener approach is now a more customer-focused approach which encompasses active and consistent environmental awareness.
Sustainable practices should now be viewed as standard practice across your business wherever possible, with a greener approach becoming transparent to your customer-base, resulting in a positive investment which can only be beneficial to the future of your business.
Consumers are increasingly discerning
Consumers are increasingly aware of their personal responsibility to make smarter choices, opting for brands who offer sustainable goods and implement greener operations, supplies and services. In this regard alone, focusing your efforts toward making your SME a greener operation, along with offering a more environmentally-focused approach to customer service adds up a lot of business sense.
To operate a more robust business, SME owners need to be clear on how to maintain a greener approach across every aspect of their business. Your green policy is of increasing importance to customers as they become eco-conscious, with many people unwilling to support businesses who display no environmental ethos.
As well as attracting new customers, an authentic, consistent and evolving environmental outlook stands to strengthen customer loyalty among your existing clients. In many cases, customers are prepared to pay a premium for eco-friendly and sustainable goods and services, as they take greater responsibility for reducing their personal carbon footprint.
Recent trends in greener procurement
Globally, the most environmentally-conscious consumers are worth £276bn to the FMCG sector and are becoming more valuable to the tune of £56bn in 2021, according to a 2020 survey by Kantar.
Shoppers across the world are following a uniform shift towards sustainable purchases. The Retail Times recently conducted research to discover how more than a third (38%) of consumers in the UK and across the Republic of Ireland frequently check the green credentials of any potential purchase, and with many opting for a higher price point between products based on proven, greener credentials.
The sourcing of products has also become more of an active concern, with customers looking to buy locally to support their regional economy. More than a third say that when making a purchase, a product must be naturally sourced, locally sourced or sustainable, with 56% of customers preferring to purchase products that can be delivered from within their own country. According to Circular Online, more than a third of shoppers have knowingly paid more for green products since the pandemic struck, with 51% saying the eco-credentials of a product are just as important to their purchase as the price they pay for it.
Accenture also reported how customer motivations had shifted during the pandemic, emphasising how purchasing behaviour once considered niche or peripheral was now generally reflection of mainstream shopping trends. Again, they found shoppers to be more conscious of the origins of their purchases, and reported price was no longer a main motivation when it came to adding to checkout baskets.
A recent report on renewable returns from E.ON found that when given more time to consider their recent purchases, consumers were found to increasingly prioritise factors such as brand reputation, environmental ethics and sustainability, with price no longer the primary consideration in their purchase. Over a third of British consumers are reported to buy their products from companies who display strong environmental credentials, with 84% of UK and US consumers claiming that a poor environmental track record would cause them to stop buying from a brand, and nearly half of UK and US consumers saying they are willing to pay a premium for brands which are socially conscious.
Trust between consumer and brands is another huge factor in nurturing consumer loyalty, an issue which sometimes prevents customers from committing to making a purchase. Many people feel brands don't always live up to their eco credentials, a feeling which has been backed up by conclusive data. In an extensive audit of around 500 global websites, the International Consumer Protection and Enforcement Network (ICPEN) found that around 40% of green claims made online were misleading and therefore potentially flouted consumer law. The report also found vague language such as 'natural' or 'eco-friendly' without relevant information to explain and demonstrate these terms, as well as some sites concealing information around issues such as pollution levels to appear more eco-friendly, as well as own-brand eco labels which were not affiliated with any organisation. These findings show shoppers are keen to make sustainable purchases, but are wary about potential greenwashing, and are willing to conduct their own research whenever necessary. If businesses can accurately prove their green credentials, providing transparency, the retail market remains as competitive as ever.
SMEs and global climate change targets
In response to the 2018 Intergovernmental Panel on Climate Change (IPCC), the United Nations body which evaluates the scientific effects of climate change warned that every additional fraction of global warming is detrimental, especially since warming of 1.5°C or higher increases risks associated with long-lasting or irreversible climate change, including the loss of some ecosystems.
Since then, world governments put strategic goals in place to help to reduce carbon footprint. In 2019, the UK proposed a 2050 target to reach Net Zero greenhouse gas emissions, with businesses of all sizes obliged to work towards meeting those objectives.
The Organisation for Economic Co-operation and Development (OECD) highlighted in 2018 that SMEs would need to be one of the core sectors to drive positive environmental change. On aggregate, SMEs are responsible for a high environmental footprint. Recent research suggests that SMEs contribute between 60-70% of industrial pollution across Europe. In particular, SMEs in the manufacturing sector, which accounts for a large share of global resource consumption, pollution, and waste generation, are critical for contributing to a green transformation.
The sheer scale of the SME sector worldwide means it is ideally placed not just to contribute, but to lead the green economic recovery. The same report from the Organisation for Economic Co-operation and Development (OECD) noted:
"…SMEs also have the potential to engender substantial environmental improvements. For example, in the United Kingdom and Finland, SMEs represent more than 90% and 70% of clean tech enterprises respectively. Thus, given the economic and environmental significance of SMEs, they are important drivers of inclusive and green growth."
SMEs customers are more aware of the environmental impact of everything they buy. If your SME demonstrates an active approach to supporting the green economic recovery, consumers are likely to engage with your service.
A recent study by Barclays revealed 75% of businesses situated across all sectors, have seen vast commercial benefits following the adoption and inclusion of green technologies in their operations.
Going green can be cost-effective for your SME
Around a third of businesses have seen a drop in their running costs as a result of making more environmentally-focused investments. This is becoming an increasingly attainable option as green technologies such as solar PV systems are becoming more accessible, with initial implementation costs being offset in the long term.
SMEs can become world leaders in a greener global future
The sheer global scale of the SME sector makes small to medium-sized businesses ideally placed not just to support, but to lead changes towards the green economic recovery. As reports such as the latest findings from OECD reflect, becoming more sustainable will increasingly make greater business sense as SME customers become more concerned about the environmental impact of everything they buy.
If SMEs can demonstrate they are doing everything in their power to support the green economic recovery, consumers are likely to reward them. Meeting customers' needs – which has, after all, always been the bedrock on which the sector's success has been built – is likely to lead to a significant, material advantage for those who can demonstrate leadership towards a more sustainable economy. The OECD found:
72% pay attention to whether a business they buy products or services from acts in a climate and environmentally-friendly way.
65% feel it's important that the products or services they buy do not harm the environment.
51% think the environmental credentials of a product or service are just as important as the price they pay.
80% more likely to continue to purchase goods and services from a business they know makes a sustained effort to be environmentally-friendly.
78% more likely to recommend a business if they knew it made a sustained effort to be environmentally-friendly.
43% of environmental credentials of a product or service have become more important.
36% have started to buy more products and services from companies that have strong environmental credentials.
34% knowingly paid extra for a product or service because they knew that it had strong environmental credentials.
On the whole, research has found consumers are becoming more aware of the environment in their purchasing decisions. They are more likely to buy goods and services if they are sustainable and will be willing to pay more for them. They will also be more likely to recommend those businesses to other people.
Against that backdrop, SMEs have work to do to improve perception, with more than half (55%) of consumers reporting that SMEs could be doing more to reduce their carbon footprint and impact on the environment. But research also shows that those who demonstrate their green credentials have a clear opportunity to take advantage of greater awareness of sustainability issues and participate in the green economic recovery.
Reduce waste and improve profit across your SME
The global environmental focus has seen businesses become increasingly conscientious towards avoiding waste, with business necessities such as water costs and energy usage leading to the development of innovative approaches to help reduce wastage, and the reviewing of usage with the introduction of new technologies and energy management systems, not only to boost profit, but to optimise operations towards Net Zero.
Going green is a huge investment in your brand reputation
Apart from demonstrating a necessary commercial responsibility towards the environment, adopting more conscientious green measures can only work to enhance the reputation of your business, making you an attractive option for customers, and providing great PR opportunities for growing your businesses and providing strong foundations for your future.
Employee engagement and staff retention due to greener policies
In a similar way to how potential customers are increasingly more discerning in making greener purchases, offering a culture which upholds environmental responsibility and shows awareness in the implementation of greener policies and active practices and in your workplace can boost employee morale, in much the same way these values boost your brand credentials among customers. These sustainable measures are also more likely to be adopted into the households of your staff, helping to promote greener lifestyles.
A third of businesses surveyed in a recent study by Barclays cited financial constraints as the reason behind their failure to go green, with 16% expressing concern around the return on investment with green technologies, and 19% of businesses stating that they only invested in greener processes as a result of regulatory demands.
How can SMEs start to go greener?
There are a number of areas in which SMEs can meet the demands of maintaining healthy business margins while taking a clear and active role in the UK's green recovery.
Ensure your website and social media channels reflect your green credentials
The most important source of information about your company's sustainability and details of eco-friendly products or services is your business website. Ensure your site clearly communicates your commitment to the environment and offers customers the opportunity to find out more about how you are meeting shared sustainability goals. Try to update any information as often as necessary so customers can see your approach is consistent.
Audit your process to identify greener opportunities for change
Whether you decide eliminate single-use plastic, take a more thorough approach to recycling, or go paperless as a business, it's worthwhile checking your processes to identify some potentially easy steps to improve your environmental footprint.
Listen to your customer demand to determine your next steps
Talk to your customers about the work being done to help sustain the green recovery and answer the demand for a more environmentally-conscious economic policy for your business wherever possible. Where changes aren't possible to introduce, explain way, open a conservation, and invite collaboration with your customer base. Transparency is key.
Start making changes today. GEAB are here to answer your questions, assist with ways to implement greener options, and work with your SME to reduce costs and lower consumption. Call and speak to our team today, on from 9am-5pm, Monday to Friday, on 0800 084 3477.
Frequently asked questions
Net Zero refers to the balance between the amount of greenhouse gas which is produced, versus the amount which is removed from the atmosphere. We will reach Net Zero status when the amount we add is no more than the amount subtracted. The UK hopes to obtain this status by 2050.
What is meant by Carbon Footprint?
The term carbon footprint refers to the amount of carbon dioxide released into the atmosphere due to the specific activities of an individual, an organisation, or within a community. The UK aims to reduce these harmful emissions in line with the 2050 Net Zero target to create a more sustainable future.
How can I encourage staff to practice water-saving?
Place signs around the business to promote water-efficient culture and remind employees to be conscientious of use. Encouraging staff to take simple steps such as only using water needed in the kettle, running a dishwasher only when full, and fully turning off taps. Encourage employees to get involved and contribute ideas towards water-saving goals.
Let us help
If you would like to discuss the information shared in this article, or you would like to receive a free energy quotation please fill in your details below.