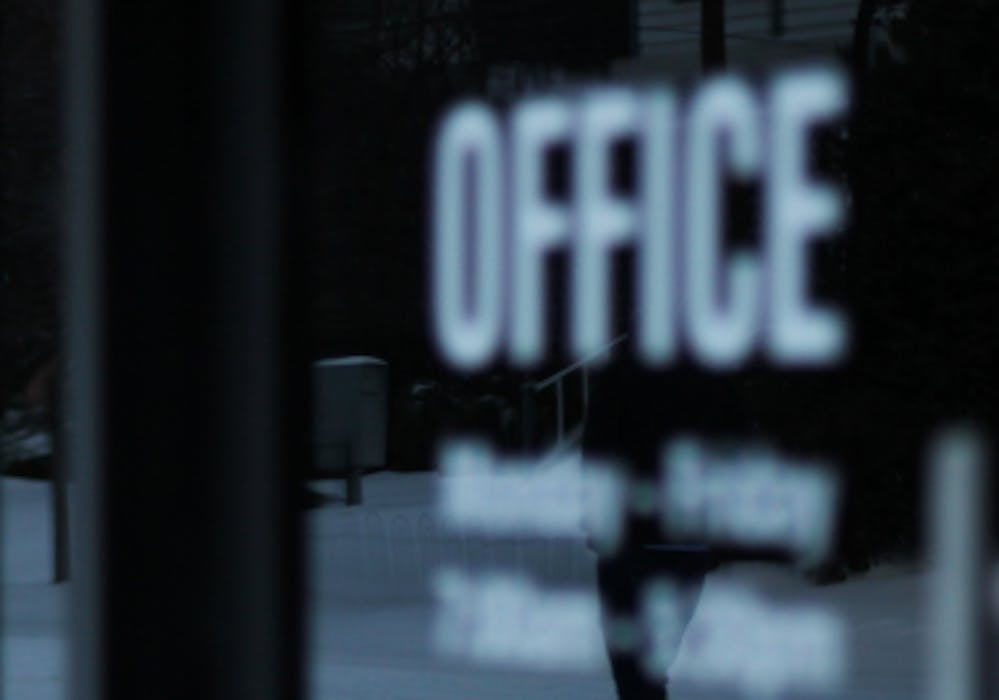 Start reducing business bills and lowering emissions today, by eliminating six hidden culprits which could help you begin your journey towards Net Zero.
Switch off equipment
Forgetting to switch off business equipment at the mains can be a considerable source of wasted energy. According to The Energy Saving Trust, a laser printer can waste over £18 of energy over a 12-month period if left on standby, and a desktop PC can waste nearly £2.50 worth of power.
Individually, these figures may seem insignificant, but if you consider the energy costs caused by leaving appliances switched on across your entire workplace, these figures start to add up, and are easily avoidable. Encourage your staff to get into the habit of saving energy by switching equipment off when it's not in use.
Many business owners are also unaware of the huge impact old, inefficient equipment can have on their energy bills. By replacing outdated and inefficient equipment and appliances with newer, energy-saving models, you stand to make savings.
Go paperless
Going paperless is a simple but cost-effective measure which also shows customers how your business is taking viable steps to becoming more climate conscious.
Consumers are increasingly aware of their personal responsibility to make smarter choices, opting for brands who offer sustainable goods and implement greener operations, supplies and services. In this regard alone, focusing your efforts toward a greener operation, along with offering a more environmentally-focused approach to customer service, makes perfect business sense.
If your workforce relies on a lot of printouts, it's time to examine your processes, and you'll find most can be carried out via sharing on-screen documents or simply by sending an email.
A paperless system will also help to reduce the amount of energy used by your printers. And, as an added benefit, also means you will spend less on paper and ink supplies.
Eliminate drafts
Better insulation means reducing energy wastage across your business with simple strategies which could lower bills by 30%. Even the most seemingly small gaps around workplace doors and windows can result in significant heat loss to your premises.
To help prevent this, you can reseal your doors and windows to block draughts and make your building more effective at retaining heat. It's not always easy to detect problem areas, so for the best results, do a full audit of your premises on a cold, windy day. This will help to identify any maintenance required.
Improving insulation in the walls and ceilings of your building isn't necessarily cheap, but it could make your premises significantly more energy efficient, and prove to be a worthwhile investment in the long term. As well as the energy saving benefits associated with a better insulated building, this could help to make your premises a more productive, appealing and comfortable workplace for staff.
Window Film is a thin laminate adhesive which can be installed to the interior or exterior of most glass surfaces on any commercial property. This simple measure helps to improve overall thermal performance, as you reduce energy loss to improve heat retention by reflecting and radiating heat back inside your premises, improving insulation and potentially contributing to significant savings across your energy bills.
Manage the office kitchen
When it comes to wasting energy, the workplace kitchen can be one of the biggest culprits in your business. Along with ensuring basic food hygiene, it is well worthwhile keeping fridges and freezers in good condition.
These should be defrosted at least once a year, or as soon as you notice any build-up of ice. Also, try not to overload these appliances. Keeping them very full for the majority of the time will mean they require more energy to maintain a sufficiently low temperature.
Whether you're a business which uses dishwashers regularly as part of your service, or you have a dishwasher in your office kitchen available for staff to use once or twice a day, make sure you select eco-cycles to reduce power usage on these appliances, and only switch them on when they are fully loaded.
Take a look at lighting systems
Energy efficient LED lighting is a simple way to reduce your carbon footprint and increase profit for your business. LEDs use 90% less energy than traditional incandescent bulbs and could pay for themselves through energy savings in only a few months. As well as being considerably cheaper to run than traditional light bulbs, LEDs also last much longer, bringing further long-term savings.
Automatic lighting controls can also greatly reduce the amount of electricity wasted, due to areas of your workplace being illuminated unnecessarily. For example, you could install timers which mean lights switch off at predetermined times, or make use of sensor technology which automatically turns lighting off when there is no one nearby.
It may seem obvious, but while we're accustomed to using electric lighting throughout the day in many work environments, natural daylight can often be used in place of artificial illuminations. By opening blinds and taking advantage of skylights and other natural sources of light, you can reduce unnecessary electric lighting usage during daylight hours, with added productivity and well-being benefits for your staff.
Never underestimate Air-Con
All air conditioning systems with an effective rated output of more than 12kW must be regularly inspected by an energy assessor. The inspections must be no more than five years apart.
All air conditioning units need regular maintenance to keep them working efficiently. Part of that general maintenance involves ensuring filters are replaced as and whenever necessary. If air conditioning filters become clogged and are left without cleaning, this means your system has to use additional power to achieve the same cooling benefits.
Get more energy efficient with GEAB
GEAB can assess your business, providing advice on improvements with an on-site inspection to support your business in providing an environmentally focused, comfortable and cost-effective workplace, featuring optimum control systems and equipment maintenance.
Our advisors will alert your business to energy-saving opportunities, with grant, tax reduction, and loan eligibility criteria, often dependent upon the size of your organisation, the area you are based in, the market sector you work in, and the product or services you provide.
The best way to start saving on energy for your business is by switching to a better deal and taking advantage of the advisory services at GEAB. Our Energy Experts are ready to take your call 9am-5pm, Monday to Friday on 0800 084 3477.
Frequently asked questions
Net Zero refers to the balance between the amount of greenhouse gas which is produced, versus the amount which is removed from the atmosphere. We will reach Net Zero status when the amount we add is no more than the amount subtracted. The UK hopes to obtain this status by 2050.
How can I reduce my energy costs?
Reducing consumption across your business can range from making simple changes including installing LED lighting systems and improving heat retention with window film insulation; to implementing half-hourly metering systems and Smart monitoring across sites for greater control and insight into energy usage. GEAB can advise on the most worthwhile solutions for your business. Find out more in our guide 6 Ways to Grow a Greener Business.
How do I switch business energy suppliers?
Contact GEAB and please ensure you have a copy of your most recent commercial gas and electricity bill for a quick, independent comparison based on your commercial usage.
Let us help
If you would like to discuss the information shared in this article, or you would like to receive a free energy quotation please fill in your details below.