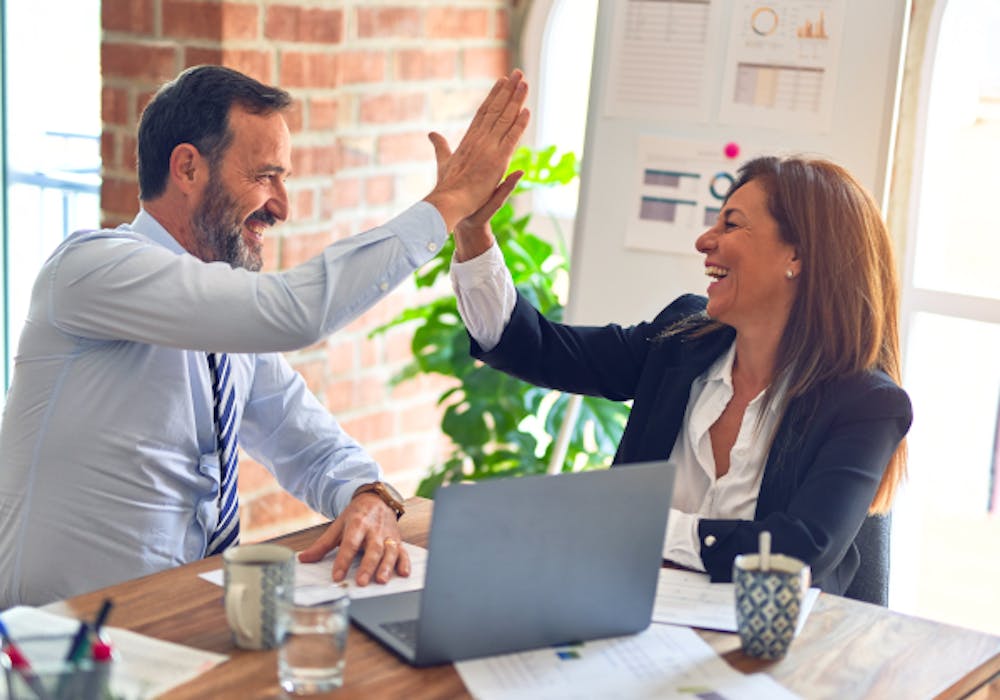 Your business will have already taken steps to reduce environmental impact, and by setting both short and long-term targets, you can ensure these changes not only fulfil ongoing green responsibilities as we head towards a 2050 Net Zero target, but positively impact on your annual commercial spend.
1.   Switch Off at the Source
Leaving appliances such as computers on standby could account for up to 15% of your annual commercial energy spent. Switching off at the mains could help your business to make considerable savings. Start by encouraging staff to take responsibility for their usage, and consider putting incentives in place, as part of your workplace energy policy.  
2.   LED Light Bulbs
Lighting commercial buildings could add up to 40% workplace consumption. While LEDs are the most expensive type of light bulb to purchase, they're the most energy-efficient, with advantages over other types. LEDs use 90% less energy than traditional incandescent bulbs and could pay for themselves through energy savings in only a few months.
Compact Fluorescent Lamps (CFLs) use 60-80% less energy, and halogens use 20-30% less than incandescent bulbs. So, while upfront costs might be higher, you'll notice a reduction in annual energy bills.
LEDs can potentially last up to 25-30 years, depending on model and usage, and emit light almost instantly. Motion, occupancy and light-level sensors, along with upgrading lighting control systems, are also worth considering as you tailor workplace lighting to exact departmental requirements, offering the highest levels of energy efficiency.
3.   Solar Panels
While the cost of solar implementation might initially seem off-putting, take into consideration long-term gains, and solar technology is an investment well-worth making within your business.
Solar panels could reduce your electricity spend to an all-time low, and with no moving parts, maintenance costs are minimal. Looking ahead, you could take advantage of free, renewable energy for years to come, massively reducing your carbon footprint in the process. 
4.   Smart Meters
Smart meter technology provides far more accurate data, meaning companies are able to measure and pinpoint energy usage across all areas of business.
This information helps to lessens the impact of your operation on the environment, by allowing businesses to review how and where to make energy savings, and supporting a greener approach while reducing commercial costs.
5.   Get Switched On
Find the lowest price for renewable energy. Switching to renewable energy is one of the most effective ways to reduce carbon footprint, and a great statement to make as part of your green business journey. 
Get in touch with our experts at Green Energy Advice Bureau (GEAB) for free impartial advice, along with the lowest prices for your business from our trusted suppliers.
Take your first step towards a greener future today with the GEAB Energy Services team. Our Energy Experts are ready to take your call 9am -5pm, Monday to FridayTop of Form on 0800 084 3477.
Frequently asked questions
Net Zero refers to the balance between the amount of greenhouse gas which is produced, versus the amount which is removed from the atmosphere. We will reach Net Zero status when the amount we add is no more than the amount subtracted. The UK hopes to obtain this status by 2050.
What are the benefits of a Smart meter?
Smart meters automatically generate data and update readings every 30-minutes. Gas and electricity usage is displayed in real time, with consumption measured with more accurately, which means your business is billed for the amount of energy used, rather than estimated workplace usage, which can result in over or under-charging. You won't need to submit meter readings to your supplier, and it is far easier to review processes and monitor consumption.
How do I switch business energy suppliers?
Contact GEAB and please ensure you have a copy of your most recent commercial gas and electricity bill for a quick, independent comparison based on your commercial usage.
Let us help
If you would like to discuss the information shared in this article, or you would like to receive a free energy quotation please fill in your details below.